WYOMING STATE FAIRGROUNDS & EVENT COMPLEX
Event Calendar
The Wyoming State Fairgrounds & Event Complex is open year round for events. Book an event with us or see upcoming events below.
Master Plan
The Wyoming Department of Agriculture commissioned a Master Plan study to identify and prioritize needed facility improvements. The Wyoming State Fair Board, in concert with the State Construction Department – Construction Management Division, developed and adopted a new Master Plan for the Fairgrounds and recommended programming changes for the annual Fair.
Facility Information
The 137-acre Wyoming State Fairgrounds & Event Complex offers the largest selection of venue options for every type of function with several pricing options. The grounds boast exhibit and meeting halls that can accommodate most any event, holding up to 4,500 people; over 600 camper, RV, and dry tent camp spaces with access to electrical, water and sewage hookups, and shower and restroom facilities; dormitories complete with beds, showers, and restroom facilities; full-service cafeteria with a 570-seating capacity; four primary arenas; livestock barns with showrings, park, playground and picnic areas nearly 300 horse stalls; and more! For more information regarding rental fees, please call the Main Office at 307-358-2398.

Caspar Hall
Centrally located on the upper campus of the Events Complex lies Caspar Hall, which is a 49' x 112' space. The 5,488 square foot venue is home to conventions, trade shows, shopping centers, fair time office space, and much more. This hall is complete with men's and women's restrooms, a separate office space, commercial grade kitchen, and smaller portion rooms all under one roof.   
Size: 5,488 square feet
Capacity: 320
Fetterman Hall
Used as a meeting space, booth space, and a competition practice event space, Fetterman Hall is 60' x 107' with concrete floors. This makes cleaning up a breeze.  The building has an exterior entrance to both its men's and women's restrooms. 
Size: 6,420 square feet
Capacity: 299
Reno Hall
Adorning a facelift with a fresh coat of paint, Reno Hall is 60' x 110'. This hall is more commonly home to weddings, receptions, meetings, conventions, trade shows, and exhibits. The beautiful hardwood floors give this space an added touch of class to spruce any event.  It includes men's and women's restrooms, along with storage space to stow away those unused tables and chairs out of sight.
Size: 6,600 square feet
Capacity: 348
Ag Hall
Constructed in 1913 this venue showcases its rich history with its high ceilings and large cathedral style windows. You can dance your dreams away on the lovely hardwood floors at your reception, birthday party, or any occasion.  Ag Hall is sure to never disappoint in its elegance and charm. Sitting as the largest and most prominent venue of the entire complex, the 48' x 128' room has been home to weddings, receptions, parties, conventions, meeting spaces, balls and dances, and fair time exhibits. The building has both men's and women's restrooms located downstairs.
Size: 7,424 square feet
Capacity: 477
Steele Hall
If you're looking for a chic, affordable space, Steele Hall is a perfect room for that intimate gathering. With men's and women's restrooms on the main floor, the 35' x 115' building has hosted wedding receptions, served as a fair time entertainer greenroom, meeting space, and more.
Size: 4,025 square feet
Capacity: 200
McKibbon Banquet Hall
If you're in need of a place to feed the masses or host a convention, we've got you covered! This hall is a 60' x 120' building complete with a commercial kitchen. You can easily divide the entire building into three parts using the soft sided, sound muffling divider walls. We've seen this space be used for everything from feeding folks during the State Fair and at church camps, to trade show space, to convention setups, and even large banquets. 
Size: 7,200 square feet
Capacity: 570
Vyve Shopping Center
Home to the Wyoming State Fair Shopping Plaza, this building has been utilized for 4-H events, meeting space, and trade shows. This space is so versatile. Come see it today!
Bonneville
When looking for a space to host a large camp or event and you need to house large groups of people, look no further. Bonneville Dormitory can be used in a multitude of ways by splitting it into small, isolated sections or dividing the space up to sleep males and females within designated quadrants.  This facility comes equipped with a separate chaperone living space. Each room can make you feel just like you're at camp in the mountains with bunk style sleeping arrangements.  Each quarter section of the building has shower stalls with attached changing areas, many sinks, and restroom stalls. Each quarter section of the building can sleep up to 128 people.
Size: 4 separately divided floors
Capacity: 512 persons
Additional Dormitories
Bridger Occupant Load = 192 Dorm Rooms
Washakie Occupant Load = 132 Dorm Rooms
Laramie Occupant Load = 527 1st Floor Exhibits
Laramie Occupant Load = 116 Dorm Rooms
Wyoming State Fair Livestock & Equine Events Complex
Ford Pavillion
With concrete flooring during the summer months and a dirt floor indoor arena in the winter season, this space is very diverse and used in a multitude of ways totaling 200' x 400'. If you're looking for a venue to hold a livestock show, or event that can maximize space during the summer months, this is it. The pavilion has 4 large scale industrial ventilation systems that can move a large amount of air.  When looking to host a winter rodeo, jackpot, or practice, our 140' x 250' indoor arena can accommodate.  The arena comes complete with livestock holding pens both inside and outside, a lead up complete with roping chute and catch pen, as well as a designated announcer stand and office entry space.  Heat is available for purchase when the weather is inclement.
Pepsi Equine Center
This 200' x 400' venue is no doubt something to be proud of! All under one roof, the Pepsi Equine Center houses a 100' x 170' indoor show arena, 750-person bleacher seating, 238 indoor stalls on concrete, 2 large wash racks, 2 sets of restrooms on each end of the building, a show office, and outdoor concession trailer hookups. The building is complete with 7 industrial sized ventilation fans to move air throughout the building. Each stall is 10' x 10' on the inside rows with the outermost edge stalls being 12' x 10'.  The facility also includes 3 covered outdoor stall barns with a total of 132-10' x 10' stalls, 60 of which are dirt floors.
Wyoming Touchstone Energy CoOperative Show Center
Right along the Platte River and just off the main highway through town, the Show Center is a place to bring your large event! The 200' x 250' space has a dirt floor, restrooms, office spaces, and more. If you're looking to hold a livestock show, livestock sale, or even a practice space, this building can be the place.
Ford Grandstands
With a 4,000-seat bird's eye view towards the east of the 165' x 300' arena, complete with roughstock chutes, roping chutes, large livestock sorting pens, elevated crow's nest building, and rodeo office, this is the place to host your rodeo or horse show. For decades, this arena has been home to some of Wyoming's most elite associations, and affiliates.  Make the visit today to see if for yourself! We'd love to be your host!
Size: 4,000+ stadium seating
Additional Arenas
Whether it be the 150' x 325' Stotz Arena with bleacher seating lying just north of the Pepsi Equine center, the 125' x 255' two railed Yellow Arena, the grassy halter arena, or the beautiful trail course, the Wyoming State Fairgrounds and Events Complex is sure to have your show and rodeo needs covered.
Fairtime Camping: 
Non-Fairtime Camping:
With Full Hook-ups (water, sewer, and 50 and 30-amp power):

Daily RV-$30
Weekly RV-$175
Monthly RV-$600
Dry Camping: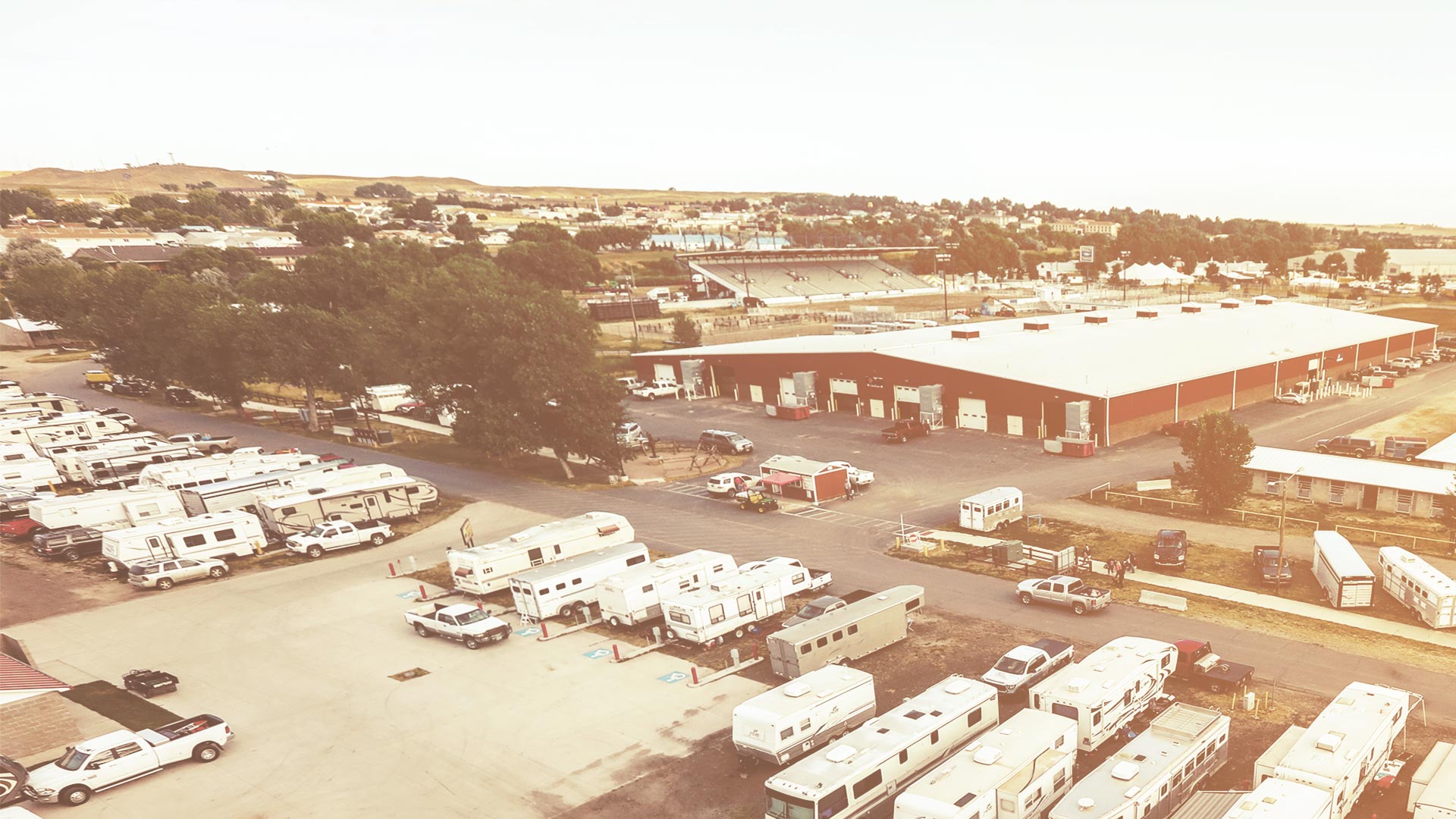 Endowment
The Wyoming State Fair Endowment was passed by the Wyoming Legislature in 2018 with the goal of providing a more stable and consistent funding avenue for the future of the Wyoming State Fairgrounds & Event Complex. After more than 100 years of success at the Wyoming State Fair, the WSF Endowment was established to make sure the fair survives and flourishes for the next 100 years.
Thank You to Our Partners
Join the Wyoming State Fair Mailing List
Sign up to receive the latest Wyoming State Fair News, events and more.